I'd like to introduce Susan Walgate, who's created a great new concept to help with health and wellbeing in the workplace and support your local charity at the same time. Susan runs a business that rotates artwork throughout the region for as little as 50p per day. A third of the revenue goes to local good causes and the artwork can help with employee engagement as well as making reception/waiting areas more interesting.
Susan Walgate…
Susan Walgate, artist and Open University graduate, living with family near Richmond, North Yorkshire.
"Originally working in finance, I took a break to raise a family. Whilst living in Antwerp, I attended Academie Noord art school and discovered I have a creative talent.
Returning to the UK, I completed my degree course, developing and refining an initiative which can support my love for painting, promote an "art for all" philosophy and benefit local good causes.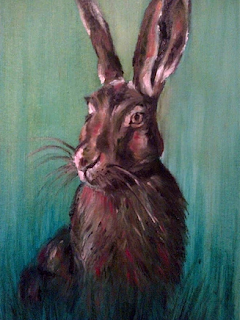 And so the Glass Half Full original painting became the logo of this scheme, which provides an easy and creative route for businesses to give back to local good causes.
You can rent an original oil painting, exchange for a different image every 2 months enhancing the office or reception for visitors and staff. Paintings are delivered and exchanged at your convenience. You may choose from the existing collection shown on this website and commission new images. The charge is £15 per month for 1 painting, (*£25 per month for 2 paintings).
As an artXchange rent & rotate member, you enjoy original artworks without a large upfront payment. You will also support good causes, as £5 (*£10) of that monthly amount will be paid back to the local community, to a different local charity every time the pot fills to £200. Recent recipients include the Dogs Trust, Darlington and My Sisters Place, Middlesbrough.
Special offers are available and of course you can see paintings in person, just contact me and I'll visit you with some samples. I continue to make new paintings so please keep looking at the website.
Remember, it costs members only 50p per day so is extremely affordable. Nick at MG Shaw, Stockton says "With excellent feedback from clients, I would definitely recommend this service to anyone".
You can also buy artworks with negotiable payment terms and orders are taken for birthday and celebration gifts, with £1/3 proceeds added to the charity pot.
ArtXchange is looking forward to working with new partners in 2017 to raise awareness of and promote the benefits of art."
Read the full story, latest blogs and see artworks at www.artxchange.biz  creatively giving